Please see below a list of low vision service providers, please note services my vary depending on the State you live in.  Contact the providers below for further information.
Guide Dogs Australia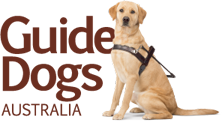 Guide Dogs Australia is a brand that represents Australia's six state-based Guide Dog organisations. Together, as the nation's leading providers of orientation and mobility services, including Guide Dogs, we assist people who are blind or have a vision impairment gain the freedom and independence to move safely and confidently around their communities, and to fulfil their potential.
RIDBC

Royal Institute for Deaf and Blind Children (RIDBC) is Australia's largest non-government provider of education, therapy and cochlear implant services for children and adults with vision or hearing loss, their families, and the professionals who support them.
The range of specialist services available at RIDBC is unique in Australia and benefits thousands of children, adults, families and professionals each year.
These services are delivered by a broad group of highly qualified professionals including teachers, speech pathologists, occupational therapists, audiologists, orthoptists, psychologists, social workers, technology consultants, physiotherapists, Ear, Nose and Throat (ENT) surgeons and more. Using in-person sessions combined with modern technology, RIDBC connects children, adults and families across Australia to the expert education, therapy, cochlear implant, and vision or hearing support services they need.
Statewide Vision Resource Centre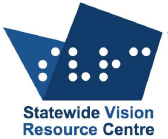 The Statewide Vision Resource Centre (SVRC) currently supports 540 students with vision impairments (blindness and low vision) in Victorian schools.  Support and Services are primarily for DET schools but some services are also available to Catholic and independent schools.
A statewide service offered by the Department of Education and Training (DET), the SVRC is the leading centre of educational expertise and provider of materials in alternative format for eligible students with vision impairments in Victoria.
The staff of the SVRC are committed to providing highly specialised and professional assistance, information, knowledge, skills and resources for students with vision impairments, and their schools, Visiting Teachers and families.
Vision Australia is a leading national provider of blindness and low vision services in Australia. We work in partnership with Australians who are blind or have low vision to help them achieve the possibilities they choose in life.
We support more than 27,500 people of all ages and life stages, and circumstances. We do this through 28 Vision Australia centres in Victoria, New South Wales, the Australian Capital Territory, Queensland, South Australia and Western Australia; 30 clinics; and through outreach programs in the Northern Territory and Tasmania.
We are a not-for-profit organisation and a major participant and partner in the international blindness community.