2019 National Conference "Leading the Way", Adelaide, SA.
Over 100 people met at the Mercure Grosvenor hotel in Adelaide over a weekend in August to laugh, cry, be inspired, eat, drink, laugh again and learn. We had some first timers, some conference veterans and others in between. Adults heard from a myriad of individual speakers plus panels of presenters, on topics from bioptic driving, learning to let technology work FOR you, music and low vision, building resilience in kids and adults, and careers. Dr Murray Brilliant, geneticist from the US, and A/Professor Celia Chen , Neuro-Ophthalmologist gave us great insights into their work and albinism. Meanwhile the primary and youth program attendees were kept busy with self defence, Bollywood dancing, excursions to the chocolate factory, central markets, the Adelaide Museum, Virtual Reality  etc. There were lots of exhausted faces on Sunday night!
2017 National Conference
"Celebrating Albinism" Melbourne, VIC
"Celebrating Albinism" – 9th National Conference was held on Friday 18th – Sunday 20th August 2017 at the Rendezvous Hotel Melbourne, VIC. Our guest speaker from Austin Texas, Karen Wolffe, challenged our thinking on successful workplace participation and raising children's expectations on work. Ophthalmologist Dr Wendy Marshman spoke about the latest in surgery and other options for both children and adults and Andrew Fuller had us laughing as we explored how to remain resilient through the transitions of life. There were major technology suppliers displaying the latest gadgets and software, including the new OrCam My Eye. Most importantly we had a wonderful group of members share their stories and wisdom, including Liz Beales, Shari Parker, Chad Perris (paralympian), Emina Hubanic, Kieran O'Brien and many others.
2015 National Conference
"Breaking Barriers by the Reef" Cairns, QLD
'Breaking Barriers by the Reed' – 7th National Conference of the Albinism Fellowship of Australia was held on Friday 25th – Sunday 27th September 2015 at the Hilton, Cairns, QLD. At the conference there was a great range of speakers and topics to met the needs of professionals, families and singles. A creche was arranged for children under 16 years aswell as a busy social program for the attending including a gala dinner on the Saturday night.
2013 National Conference 
"Fair Go" Sydney, NSW
'Fair Go' – 5th National Conference of the Albinism Fellowship of Australia was held on Friday 11th – Sunday 13th October 2011 at Rydges World Square Hotel Sydney, NSW. Conference statistics: – 260 people involved – 76 people with albinism – 27 kids in the youth program – 24 kids in the crèche – 30 dedicated volunteers – 50 presenters – 40 professionals – at least 1000 teardrops, 5000 smiles, 7000 episodes of laughter, and 10,000 moments of shared understanding.- ……Not to mention, conservatively 1600 combined years of experience related to albinism all in one room.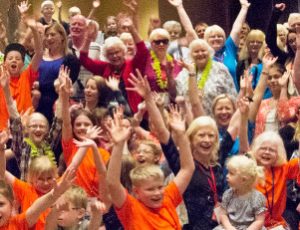 2011 National Conference
"SPF2011: Spectacular Platinum Festival" Melbourne, VIC
'SPF11' – 4th National Conference of the Albinism Fellowship of Australia was held on Friday 7th – Sunday 9th September 2011 at the Novotel on Collins, Melbourne, VIC.
2009 National Conference
"Shining The Light On Albinism" Brisbane, QLD
'Shining The Light on Albinism' – 3rd National Conference of the Albinism Fellowship of Australia was held on Friday 11th – Sunday 13th September 2009 at the Chifley at Lennons Hotel, Brisbane, Queensland. Event specifics: 156 Attendees = 128 registrants (including 49 people with albinism); 3 Keynote Speakers; 10 Professional Speakers; 7 Workshop Coordinators; 8 Crèche/Youth workers; 8 Personal Stories (included in registrants total). Program included 10 additional Presenters involved with a separate public display of VI Sports Options, Friday 11th September 2009, Upper Stage, Queen Street Mall.
2008 National Conference
"Platinum Reflections – Beyond the Stereotype" Adelaide, SA
The 2008 AFA conference was held at the Stamford Grand Hotel, waterside at Glenelg, Adelaide from 4-6 April 2010. Keynote speakers at the conference included: The Faaabulous Rick Guidotti, founder of Positive Exposure in the USA, Dr Brian Evans with his user friendly guide the albino eye,  Margaret Mary Campbell from the USA who spoke on Bully-proofing your child, our very own osteopath Philip Latey, and the lovely Dr Jamie Craig, whose team also examined corneal thickness amongst people with albinism. A crèche was run for our younger members. We enjoyed a Conference dinner on the Friday night at Lungamore Italian Restaurant, and Saturday evening was a relaxed waterside picnic. At our second conference, we had 118 attendees, including 42 people with albinism.
2006 First National Conference "Bringing Together Australians with Albinism", Sydney, NSW.
The first Australasian Albinism Conference was an enormous success, more so than we could ever have imagined!!! We had 101 registrations from people all over the country, New Zealand, Nigeria, and Papua New Guinea. Almost half of those registered were people with albinism. This was the first time that a lot of us had ever been with this many people with the same condition in one room. The presentations covered a wide spectrum of albinism related issues, with well supported social events in the evenings and a fun childcare group during the daytime.