Biennial Australian Albinism National Conference
Adelaide, August 23-25, 2019
The biennial Australian National Albinism Conference will run in Adelaide from Friday, August 23. to Sunday, August 25, 2019, at the Mercure Grosvenor Hotel Adelaide. This is a great venue, with all our conference rooms – catering for kids, teenagers and adults – on just one floor. 
Please keep an eye on our National Conference page for details.  Also, register before July 12 to save money with our Early Bird discounts!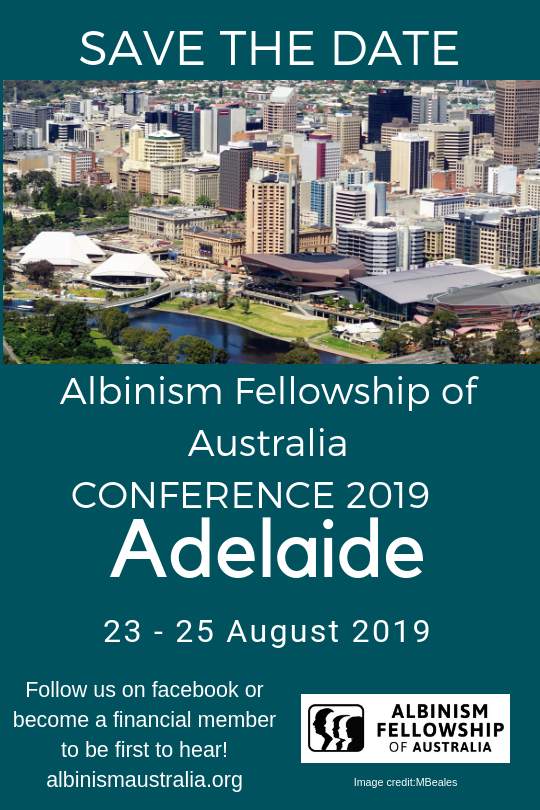 PREVIOUS EVENTS:
2019 International Albinism Awareness Day – June 13, 2019
*Perth IAAD Celebration*
You're invited to VisAbility's annual celebration of International Albinism Awareness Day!
DATE: Sunday, June 9, 2019
VENUE: VisAbility's CaYS area
TIME: 2pm to 4pm.
WHAT TO BRING: A plate of food to share and a picnic rug
RSVP: Ryan Honschooten at ryan.honschooten@visability.com.au
We had craft activities, fun games, some short speeches and a door prize!
2018 International Albinism Awareness Day – June 13, 2018
*Victorian IAAD Celebration*
DATE: Sunday June 17th Celebrate IAAD!
VENUE: Vision Australia Rooms, Glenferrie Rd Kooyong (near Kooyong Station).
TIME: 11.30am to 2pm. Light lunch provided.
COST: Cash on day please to cover catering:
*Members*: Adults and older kids $5, Kids 7 and under $2.
*Non members*: $10 and $4. (Now is the time to join and save!)
We had space for teens/young adults to chill out, activities room for
children and a quiet room (if using IPad etc, bring earphones).
Please contact your State representatives for local events in your area or check the AFA Facebook page for upcoming events.